Our Shop
The Butchery and Deli opened late November 2013, when Jamie and his family joined another family ran business at Bellis Brothers Farm Shop & Garden Centre, Holt Village, Wrexham.
It was a long term goal of Jamie's to open a butcher's shop and also of son Dave's. Dave can be found at the butchery most days and is always keen to produce a fantastic display of delicious food to catch your eye.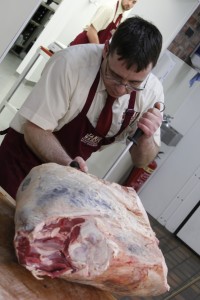 The Butchery
On our butchery counter all the beef is certified Welsh beef, the majority being Welsh Black, matured for 28 days in our fridges. This is complimented by Welsh Lamb and Free Range Gloucester Old Spot Pork.
All our meats come from local farms via local abattoirs. Ask one of our butchers and they can tell you exactly where your purchases come from.
All the chicken is farm assured British with a choice of Packington Free Range from Staffordshire or locally sourced barn reared. Very popular are the chicken Supremes.
All of our burgers are made onsite. Not forgetting our selection of homemade sausages made at the farm and delivered fresh to the shop. Traditional Pork will always be our most popular but why not try Welsh Marches Herb, Caramelised Onion or if you like something with a kick try our Welsh Dragon sausage. We also supply The Strawberry Fields Restaurant at Bellis' with their Breakfast Sausage which can also be found in the counter.
Dry cured Bacon can also be found in the counter. Smoked, unsmoked or cured in molasses. Keep an eye peeled for more flavours in our bacon range.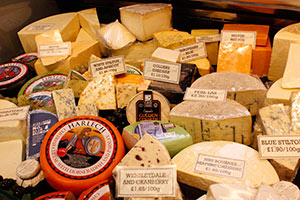 Cheese
Our cheese counter boasts a large range of popular and local cheeses including Bournes traditional Cheshire cheese, Perl Wen, Harlech and many many more. Just ask to try something different!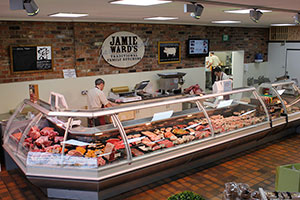 The Deli
The Deli consists of a selection of cooked meats, locally produced Pates from Llangollen and a selection of salads. We also have our very popular homemade black pudding made to our own secret recipe. And lots and lots of tasty pies and pasties made and cooked in store; Chicken, Leek and Bacon, Steak and Ale, Steak and Kidney, Traditional Pasty, Vegetarian Cheese, Tomato and Spinach Pasty, Pork Pie, Sausage rolls among others.
2014 Welsh National Awards for Excellence in Meat Products
Not long after opening, Dave and the butchers scooped 12 Gold Awards in categories such as sausages, bacon, pork pies and burgers. It was a fantastic achievement after only 5 months of opening and the awards can be seen proudly displayed around the counters. Well done team!!
The Staff
At the Jamie Ward's butchers there are always three qualified Butchers on hand to help you with your purchase. If you can't make your mind up please ask for a recommendation from them or see if they will make something you can't see in the counter….they love a challenge.
Opening Hours
Monday 9.00am-6.00pm
Tuesday 9.00am-6.00pm
Wednesday 9.00am-6.00pm
Thursday 9.00am-6.00pm
Friday 9.00am-6.00pm
Saturday 9.00am-6.00pm
Sunday 11.00am-5.00pm
Where to find us
Contact
For queries/orders please contact the Butchery directly on 01829272030