Our Story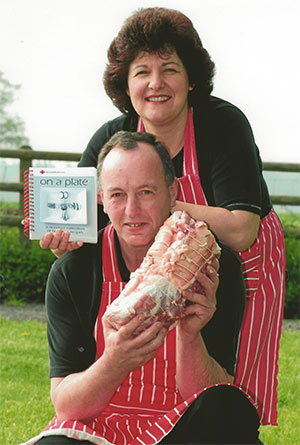 With a long history of farming in his family, this was how Jamie started out, but when Oswestry Farmers Market started in 1999 he changed direction selling his homemade sausages and pork products from his own pigs. He has never looked back!
Located just outside Whittington in the Shropshire Welsh Border countryside, the business has gone from strength to strength. The growing demand for his products meant that a farm building was renovated into a registered cutting plant. Jamie soon started to supply local shops, restaurants and garden centres from Llanidloes to Warrington with homemade sausages, dry cured bacon and pork products.
Over the years each member of the family has come home to work with Jamie to ensure the business is at its best. Wife Janet, daughter Tori and son Dave all play large parts in the running of the business.
In 2013 the opportunity arose for Jamie and his family to join Bellis Brothers Farm Shop and Garden Centre, another family business. At the heart of an already established Farm shop Jamie Wards Butchers and Deli takes pride of place. Open 7 days a week, the counters are always stocked full of local meats, cheese and homemade pies. Not forgetting Jamie's original Sausages and Bacon from the farm.
In 2016 a second opportunity came along for another Butcher's and Deli counter at Harry Tuffins in Churchstoke. With that an opportunity to expand the cooked range and a taste kitchen has been built at the farm where new products will be developed ready for both outlets.
Jamie takes great pride in the family business and its promise to provide quality local food and hope you enjoy all our produce.