Our Sausages & Bacon
Jamie Ward's at 'The Farm' – It's what we do!!
This is where it all began in 1999 at Oswestry's first famers market, Jamie made his first batch of pork sausages and the rest they say is history.
The business grew from there, attending more markets and eventually supplying local shops. It grew to a point where an old farm building was renovated into our registered cutting plant.
Daughter Tori and Jamie make all the sausages for the butchery and supply many local shops, garden centres and restaurants with sausages, dry cured bacon and pork products.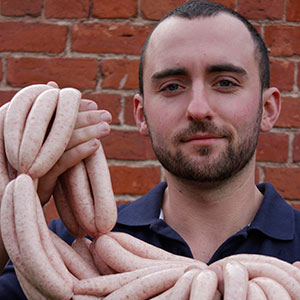 Sausages
Made with quality ingredients and 86% of the best lean pork, our sausages are made to our own special recipe. We have spent time developing the flavours of our sausages and are proud of the product we have today.
Sausage flavours including; Classic Tomato, Welsh Marches Herb, Cider Apple, Leek & Bacon, Cracked Black Pepper, Sweet Chilli and Caramelised Onion can be found in our retail shops alongside the Christmas special, Cranberry & Port.
We also do our own Gluten Free Sausage made to the same recipe as our Traditional Pork. Did you know that all our Welsh Marches Herb sausages are also Gluten Free?
Also, we create different flavours for the butchery from Curry & Mango to the spicy Welsh Dragon and many more.
All these flavours can be ordered directly from the farm or the Butchery.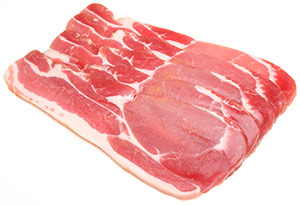 Bacon
Traditionally dry cured by Jamie at the farm, our bacon is simply delicious.
Rubbed with salts by hand it can then be traditionally smoked over oak wood chippings to give it a natural smoked flavour or cured in molasses to make it a sweet treat.
Our bacon is a family favourite and can be bought directly from the farm or at the Butchery.
We also supply our bacon in catering packs for a good supply in the fridge or for restaurant or Bed & Breakfast orders. Contact us for our B & B offer!!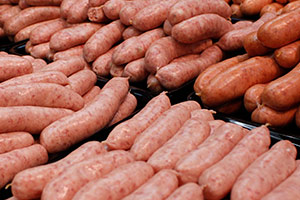 Sausage Meat
Ever had a  Handmade Scotch Egg? If yes than you've probably tried some of our bespoke sausage meat supplied to make their scrumptious products.
If you would like us to supply you with your own recipe of sausage meat please get in touch.